Contact us by Live Chat (yellow button below):
Available 24 hours a day, 7 days a week

FREQUENTLY ASKED QUESTIONS
Click on the tab below that best relates to your question and type a keyword to quickly find the most relevant answers. If you don't find the answer you need try a different keyword or clear the search field to bring back all of the original questions for that tab.
For example, if you wanted to learn how to change your InfoWest email password click the EMAIL tab below then type "change" in the KEYWORD field.
How do I set-up my InfoWest email with my email map?
In order to configure your e-mail program to work with our mail servers you will need modify a few settings. We recommend you use an email Internet Message Access Protocol (IMAP) client such as Outlook or Thunderbird, however POP3 (Post Office Protocol) accounts such as, Gmail, Yahoo & Hotmail will work as well. IMAP accounts will allow you to keep your email on the server, which is accessible from our InfoWest Webmail.
| | |
| --- | --- |
| Username: | Your e-mail (username@infowest.com) |
| Password: | Your password |
| E-Mail Address: | Your e-mail (username@infowest.com) |
| Incoming Mail Server: | mail.infowest.com |
| Outgoing Mail Server: | mail.infowest.com |
| Outgoing Mail Authentication: | ENABLED |
| SSL/TLS Secure Connection for Incoming and Outgoing: | ENABLED |
| Alternate Outgoing Mail Submission Port: | 587 (default is 25) |
If you would like assistance in configuring these settings into your e-mail program please give our technical support team a call at 435-674-0165 (ext. 2) and we can walk you through the process of configuring your e-mail client correctly.
How do I change my InfoWest email password?
For security reasons, we ask that you give us a call at 435-674-0165 or 1-866-463-6937 ext. 2 so we can assist you with this. InfoWest also recommends you change your email password every 6 months for safety. You can also go here: secure.infowest.com/password.html IMPORTANT: Once your password is changed, please make sure to update your password on all devices you use to check your email.
Can I access my InfoWest email while on vacation?
Definitely! You can access your InfoWest email by visiting: webmail.infowest.com and logging in using your InfoWest username and password.
How do I access my InfoWest Email Spam Trap?
When you use the InfoWest Spam Trap filter to report spam, you're not only cleaning out your own Inbox, but helping us to better filter our unwanted or malicious emails. You can access your InfoWest Spam Trap by visiting: spamtrap.infowest.com and login using your InfoWest email username and password.
How do I unlock my InfoWest email account?
Your email account will automatically lock after too many failed login attempts. On rare occasions, your email account may also be locked if our system believes your email account has been compromised. To unlock your account, you will need to contact our technical support team at 435-674-0165 ext. 2.
How can I add (or delete) InfoWest email addresses?
You receive 5 InfoWest email addresses for Free with your InfoWest Internet service. You can manage these addresses by calling 866-463-6937 (ext. 3).
Spam is unwanted or unsolicited emails. You can filter spam emails by utilizing your InfoWest Spam Trap.
What can I expect on my first bill?
The first bill after starting a new service can be a little confusing. So, there are no surprises, here's what you can expect: We will prorate your account from the day of installation  to the first of the following month, then we will bill for a full month in advance on the first.  Your bill will reflect any credit you had from your initial payment.
Can I have someone else pay my bill?
Yes! Someone other than the account holder can pay an InfoWest bill. There are a couple of ways you can do this…
By adding an authorized person to your InfoWest account. This will grant the authorized person permission to make changes, payments and review your InfoWest account, until their privileges are revoked. To add an authorized person to your account, please call 435-674-0165 ext. 3.

Otherwise, someone else can pay on your InfoWest account by stopping into any one of our three locations in St. George, Cedar City or Overton, NV. They will need to provide the name of the InfoWest account holder, your InfoWest account number as well as the amount that needs to be paid.
How can I pay my bill online?
You can access your account online by visiting: portal.infowest.com and logging in using your username and password. For new users, you will need to register for a new account at portal.infowest.com/register  and login in using the email address associated with your InfoWest account.
Can I prepay for my service?
Yes, you can. When you prepay your service annually, you may receive an additional discount for your InfoWest services. To learn how much of a discount, you can receive by participating in our annual prepay service, please contact our Billing department at 435-674- 0165 ext.3.
How do I set-up a payment arrangement?
We understand that sometimes situations arise that make it hard to pay a bill on its due date. If you find yourself in this situation, please give our Billing department a call so we can work with you.
How can I dispute a charge or request a refund?
InfoWest customers have 60 days to dispute charges. Disputes and refunds are handled on a case by case basis. Please contact a billings team member at 435-674-0165 ext. 3.
What are my payment terms?
My Internet Connection is down or performing poorly. What can I do?
Power cycling the equipment on the roof is the primary troubleshooting step. This can be done by locating the roof equipment's Power Supply Adapter, unplugging the cable running to the roof equipment and plugging it back in.
My WiFi seems to be slow. What can I do?
Power cycling your router is a good start. Make sure your router stays disconnected from its power supply for at least 30 seconds before plugging it back in. Your WiFi is also prone to interference from neighboring wireless devices. Most interference issues can be alleviated by moving your WiFi's signal to another channel. If you believe that your WiFi may be suffering from interference, you can plug a device directly into the back of the router (hardwired) and test the hardwired performance against your WiFi performance.
My internet is not working on one of my devices, but is working on others.
If the internet is working on other devices, this means that your InfoWest internet connection is active. In most cases, if a device is not working when others are, there is an issue with the device connecting to your wireless router.
Can my InfoWest connection use the existing cabling that is run in my home?
Because every home is different, the only accurate way to determine if your home's existing cabling can be used is to have a technician on site to inspect.
Who does my roof equipment's power supply look like and how should it be plugged in?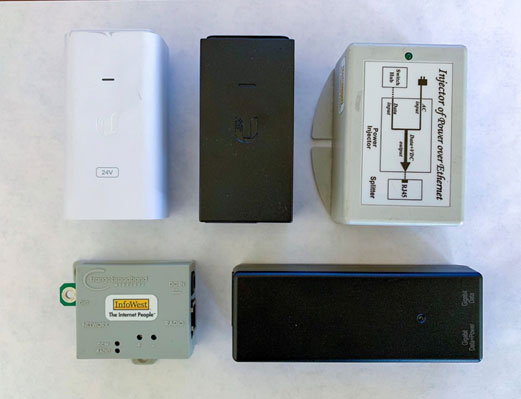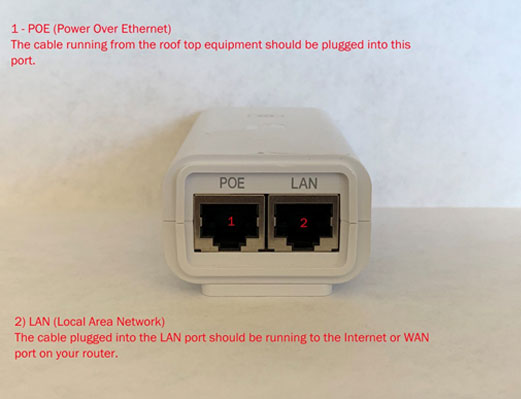 I just purchased a new router; can I just plug it in and it will work?
Yes and No. Most InfoWest connections require your new router to be configured with a PPPoE connection type that uses a Username and Password to validate your internet connection. It is best to contact your local InfoWest office to determine whether or not your connection requires this username and password.
I am seeing 2 WiFi names. What is the difference between them?
Modern day routers are equipped with "Dual Bands". This means that the router has the capability of broadcasting 2 separate WiFi connections; 2.4GHz and 5GHz.
What is the difference between 2.4GHz and 5GHz?
2.4 GHz is a longer radio wave that has the ability to penetrate objects better and cover more distance effectively. 5GHz is a shorter radio wave that has the ability to transmit more speed. However, because of its smaller radio wave, it has a difficult time penetrating objects and broadcasting long distances.
I reset my router and now the internet is not working.
Holding down the reset button on your router causes all of InfoWest's connection settings in the router to disappear as well as your WiFi Name and Password. InfoWest Tech Support can walk you through re-configuring your router over the phone or you may bring your router into the office to have a team member re-configure it for you.
I have a Modem/Router combo or a Router from another Internet Service Provider. Will it work?
No. A modem is a digital translator that helps your router understand your internet connection. Your InfoWest internet connection already speaks the same digital language as a typical router. Most Internet Service Providers still use Modem/Router combos that are not compatible with an InfoWest internet connection. If you are unsure if your routing device is compatible, an InfoWest team member can provide you with answers.
My WiFi does not reach to the far end of my house. Can I fix this?
InfoWest has a team of IT experts that can give you suggestions over the phone or come to your home for a fee to build you a custom WiFi bid to suit your needs.
Quick & Easy Internet Fixes
Most internet issues can be fixed with tips in this video. This is a great place to start!
How to Test Your Internet Speed
How to test your internet speed. Is your internet connection slow? Let Skyler from the InfoWest team show you how easy it is to run an internet speed test. Here's a link to our recommended speed test site: speedtest.infowest.com
What is an Ethernet Cable?
What is an ethernet cable? The ethernet cable is the cable that connects your computer to your high-speed internet. Watch as Skyler from the InfoWest team breaks down what an ethernet cable is and how to find it.
Router Care and Maintenance
Improve your home wifi by treating your internet router to a little TLC. Check out our newest video with three tips for caring and maintaining the life of your router.

New to the InfoWest Connect Plus App?
This video will help get you started by introducing you to the Connect Plus dashboard and unleashing the power of total control over your internet system.
Customer Service is our Service
Connecting computers to the Internet
Configuring Routers to Connect to the Internet
Setting up and troubleshooting InfoWest Accounts on your Computer
SpamTrap
Getting Access to Hosted Website
Accessing cPanel (Hosting Management Tool)
FTP
Accessing your Web Portal
Phone Sound Quality Issues
IN-HOME SUPPORT
A trained InfoWest Technician can come to your location for $90/hr, with the minimum charge of $45 for the first half hour, for the following:
Networking Issues behind your Router/Firewall
Wireless Interference issues
Running cable to a new room
Setting up a new computer
Installing VoIP to all phones inside your Location
Virus Removal
IN-OFFICE SUPPORT
Setting up and troubleshooting InfoWest Accounts On Your SmartPhone
Setting up your Router
Tune-up and Virus Removal on your computer
Setting up a new computer
Help with Software Issues and updates.
First Time Set-up For New Computers
Virus Removal
BUSINESS SUPPORT
Routine visits to ensure that your Network Environment is in good, working condition
Devise Custom Solutions to better suit your IT needs
Virus Removal
435 E Tabernacle, St. George, UT 84770
435-674-0165
M-F 8am-5pm | Sat 10am-3pm
136 N Main Street, Richfield, UT 84701
435-304-6000
M-F 9:30am-6pm
196 S. Moapa Valley Blvd Ste #3, Overton, Nevada 89040
702-397-6445
M-F 9am-5pm